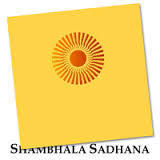 Shambhala Sadhana ~ A monthly chanting practice ~ Open to al
Shambhala centers and groups around the world host a monthly Shambhala Sadhana practice for all Shambhala community members.
These will be opportunities for us to meet, practice together, and potentially have conversation around themes of basic goodness and wholesome society.
The intention is to foster experiences of basic goodness personally and societally, and to further bind us as a wholesome community.