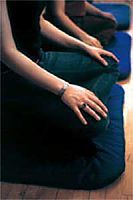 Meditation Instruction
Interested in learning how to meditate? Mindfulness meditation is the foundation of all that we do at the Bellingham Shambhala Meditation Center.
Originating from Shakyamuni Buddha, this 2,500 year-old practice of self-discovery is rooted in the simple, but revolutionary premise that every human being has the ability to cultivate the mind's inherent stability, clarity and strength in order to be more awake and compassionate in everyday life.
Instruction is always free. Just show up -- someone will meet you to offer instruction.
Initial meditation instruction (sitting and walking) is offered every Monday at 7pm.
The center is located at 2825 Meridian Street, Suite 201, near Illinois (across from Haggen grocery).