"Walk With Me" ~ at the PICKFORD Film Center ~ Reserve Your Tickets Now!
Help Bellingham Shambhala Center to sponsor a screening of the Thich Nhat Hanh documentary, "Walk With Me" narrated by Benedict Cumberbatch. If at least 66 people reserve their tickets by September 27th, it will be shown at the Pickford Film Center as part of the Doctober annual documentary film festival.
October 11th @ 6:30 pm - PICKFORD FILM CENTER - 1318 Bay Street - Bellingham, Washington
As a sponsor of the film, we are helping to promote ticket reservations through the Gathr Films distribution site. In order to bring the film to Bellingham, we must secure 66 reservations by September 27th.
We hope to join with other Buddhist groups in Bellingham to provide information about our sanghas during the evening, and perhaps offer a Q & A session after the show.
Link to reserve your tickets:
https://gathr.us/screening/20459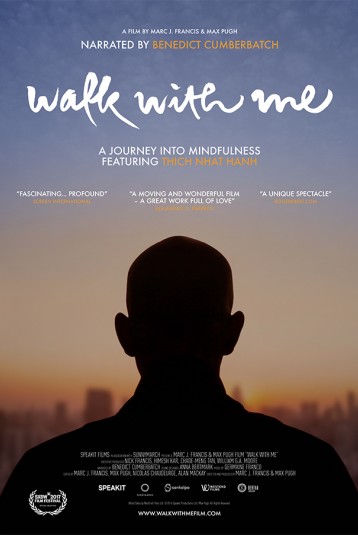 With unprecedented access, WALK WITH ME goes deep inside a Zen Buddhist community who have given up all their possessions and signed up to a life of chastity for one common purpose – to transform their suffering, and practice the art of mindfulness with the world-famous teacher Thich Nhat Hanh.

Filmed over three years, in their monastery in rural France and on the road in the USA, this visceral film is a meditation on a community grappling with existential questions and the everyday routine of monastic life.

As the seasons come and go, the monastics' pursuit for a deeper connection to themselves and the world around them is amplified by insights from Thich Nhat Hanh's early journals, narrated by Benedict Cumberbatch.
Duration: 88 minutes