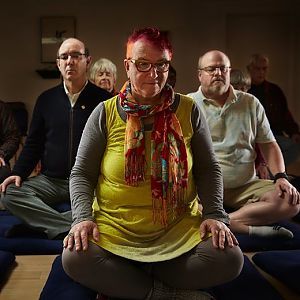 Virtual Monday Night Open House ~ ONLINE
IMPORTANT:
Zoom now requires meeting passwords!
Our password for Monday Open House is: 057492
Join us ONLINE from your home for sitting practice while we navigate new territory in staying connected through electronic technology!
Due to the current call for staying home with the rising evidence of the spread of Coronavirus (COVID-19) in Washington, the physical space of Bellingham Shambhala Center is closed until further notice.
However, please join us ONLINE for Monday Night Open House Group Meditation, 7:00 pm - 8:30 pm
Each week, we hope to create a space for sanity and meditation by offering the role of timekeeper (Umdze) from either the Center's Shrine Room, or from one of our homes by using the Zoom meeting technology.
To join our weekly Zoom Meeting, please download the Zoom app first. When you have the application downloaded on your chosen device, click on the link in advance of the opening gong at 7:00 pm:
Bellingham Shambhala Center Monday Night Open House
If prompted, the PASSWORD is: 057492
Or, you can join the gathering by using the Zoom Meeting ID in your Zoom application: 125-884-080
How to ZOOM and to download the application:
We are using Zoom to livestream our events, which works on laptops, iPads, and smartphones.

Prior to your first attendance, download the Zoom app for desktop or mobile using the same email address.

For iPhone or iPad:Click here: https://itunes.apple.com/us/app/id546505307 or search the App Store for 'ZOOM Cloud Meetings' and click 'Get'
For Android: Click here: https://play.google.com/store/apps/details?id=us.zoom.videomeetings or search in Google Play for 'ZOOM Cloud Meetings' and click 'Install'
For Desktop PC/Mac: You do not need to Pre-install the app but it is recommended so that you are prepared when the class starts. You can do that here: https://zoom.us/client/latest/ZoomInstaller.exe

Create a Zoom account. If you already have an existing account, open up Zoom and click 'Sign In'.

Mobile: If you do not have an existing account, click 'Sign Up' Enter your first name, last name, and email address. Click 'I agree to the Terms of Service' and 'Sign Up'
Desktop: Click the Blue 'Sign Up, It's Free" Button and complete the registration.
Thank you for your patience as we experiment with this new online venue for our little center!