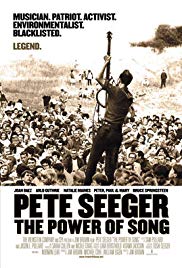 Sunday Afternoon Film Series: Pete Seeger: The Power of Song (2007)
Pete Seeger: The Power of Song is a documentary film about the life and music of the folk singer Pete Seeger. The film, which won an Emmy Award, was executive produced by Seeger's wife, filmmaker Toshi Seeger, when she was 85 years old.
The documentary was directed by Jim Brown, who also directed The Weavers: Wasn't That a Time! (1982). The film includes interviews with Arlo Guthrie, Bruce Springsteen, Bob Dylan, Joan Baez, Tom Paxton, Mary Travers (of Peter, Paul and Mary), Natalie Maines, and numerous Seeger family members. One of its associate producers was Kitama Jackson, a grandson of Seeger.
----------------------------
The Bellingham Shambhala Center is sponsoring a film series one Sunday a month at 3:30 PM. We will be screening a wide variety of films, suggested and chosen by members of our community for their meaning and relevance to their lives and each our individual spiritual paths. After each screening we will share our thoughts and tears and joys over tea and popcorn.
If you have suggestions for films, please see Aaron, Tonya, or Renee at the Center Monday nights or email me (Renee) [email protected].