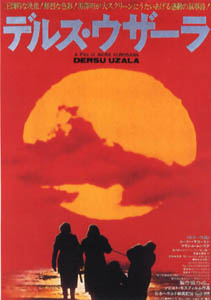 Sunday Afternoon Film Series: Dersu Uzala: The Hunter (1975)
The film is based on the 1923 memoir Dress Uzala (which took its name from the native trapper) by Russian explorer Vladimir Arsenyev, about his exploration of the Sikhote-Alin region of the Russian Far East over the course of multiple expeditions in the early 20th century.
Shot almost entirely outdoors in the Russian Far East wilderness, the film explores the theme of a native of the forests who is fully integrated into his environment, leading a style of life that will inevitably be destroyed by the advance of civilization.
It is also about the growth of respect and deep friendship between two men of profoundly different backgrounds, and about the difficulty of coping with the loss of strength and ability that comes with old age.
-------------------------
The Bellingham Shambhala Center is sponsoring a film series on one Sunday a month at 3:30 PM. We will be screening a wide variety of films, suggested and chosen by members of our community for their meaning and relevance to their lives and each our individual spiritual paths. After each screening we will share our thoughts and tears and joys over tea and popcorn.
If you have suggestions for films, please see Aaron, Tonya, or Renee at the Center Monday nights or email me (Renee) [email protected].