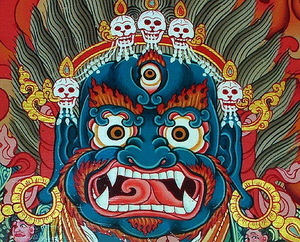 MAMOS CHANTS ~ Fresh Start for the Year of the Iron Mouse ~ 10-Evenings Chanting Practice
In the Shambhala Buddhist community we celebrate the Tibetan Lunar New Year (called Losar) on February 24 as Shambhala Day. It marks the end of one year's cycle and the beginning of a new year. The karmic obscurations and chaos that have accumulated during the year, for us personally and for society in general, are said to manifest most strongly in the period leading up to Shambhala Day. This is referred to as the Dön Season.
These ten days prior to the new year are traditionally seen as a time when the accumulated karmic energies of our habits and behaviors throughout the previous year ripen. This time is viewed as potentially precarious -- when we are vulnerable to slips in mindfulness, accidents, and emotional outbursts due to a lack of awareness and speed.
Fortunately, this 10-day period leading up to the beginning of the new year is also seen as a potent opportunity. Through meditation and contemplation, we can acknowledge and learn from these intense and intimate energies of our lives.
The chanting practice known as "Pacifying the Turmoil of the Mamos," helps us to engage in this recognition and contemplation. The chant lasts approximately 1 hour, and is done each evening at 5:30 during the 10 days prior to Shambhala Day.
The traditional practice of mamo chants helps us to reflect on past actions and set intentions for a new year. For an explanation of how the Dön season provides an invitation to make a fresh start in our practice and personal lives, please read this article by Mr. Fred Jaben: Pacifying the Turmoil of the Mamos: Fresh Start for the New Year.
This is a powerful and binding community practice that is open to all. Please join us for any or all of the evenings during this important practice period.