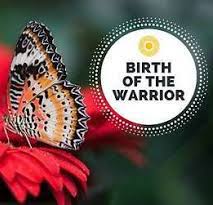 "The Birth of the Warrior" ~ Shambhala Weekend 2
with Greg Heffron
When we really try to make a connection with the practice of meditation, obstacles arise. How do we work with and through these difficulties--how do we bear them?
This second level of Shambhala Training intensifies the discipline of meditation practice, enabling participants to work with obstacles that may have arisen as meditation practice develops.
The Way of Shambhala is a series of classes designed to awaken us to the potential of our lives. It teaches us to live meaningfully with joy; to deepen our intelligence and compassion, and to learn to unify the practical and the profound. Daily life becomes an opportunity to further cultivate these qualities.
In The Birth of the Warrior, we examine our habitual tendencies, fears, and defense mechanisms; building on the foundation of the meditation practice introduced and the glimpse of basic goodness we had in The Art of Being Human. We learn to recognize habitual patterns and discover fearlessness. Having experienced a taste of basic goodness, we want to go forward.
Meditation practice allows us to observe how we create a cocoon of habits to mask our fear. We begin to appreciate that there is no fundamental obstacle to experiencing basic goodness and discovering fearlessness.

This is the second weekend retreat of The Way of Shambhala path of training.
Prerequisites: The Art of Being Human, Shambhala Training Level 1.
The Shambhala Vision is rooted in the principle that every human being has a fundamental nature of basic goodness. This nature can be developed in daily life so that it radiates out to family, friends, community and society.
The Way of Shambhala Training Levels I-V (The Heart of Warriorship) provide a strong foundation in mindfulness-awareness meditation practice, emphasizing the development of genuineness, confidence, humor, and dignity within the complexity of daily life. For more information about The Way of Shambhala and the Shambhala path: http://shambhala.org/about-shambhala/the-shambhala-path/
The Bellingham Shambhala Center is a non-profit organization supported entirely by the generosity of its members, program participants, the energy of its volunteers and its donors.
Our Generosity Policy
Our program tuitions are set at a level needed to support the Center. However, it is our commitment that no one be prevented from participating in our programs due to financial constraints. Please contact Vicky Moyle for inquiry about a reduced price.
For those who can offer more than the program price, we have a "patron price". Your generosity in offering the patron price helps cover the costs for others who are not able to pay the full price.
Greg Heffron
The teacher for the weekend, Greg Heffron, is the Executive Director of the Mindful Communications/Green Zone Institute http://www.greenzonetalk.com/ and co-founder of Mudra Institute https://www.mudrainstitute.org/
He teaches mindful communication with author and Shambhala Buddhist teacher Acharya Susan Chapman, and has been a Mudra Space Awareness teacher since 2005. He has been a mindfulness meditation teacher in the Shambhala Lineage since 2005. His background is in creative writing, having earned an MFA in Nonfiction Creative Writing from the University of Iowa in 2003.